Two towers of sparkling glass outspread in the sky - this magnificent view welcoming you at the threshold of Sofia is called BLU OFFICES!
This impressive state-of-the-art business complex is a true landmark combining a spectacular exterior, advanced-technology facilities and a stylish interior.
The Property's impressive two-story lobby welcomes visitors and tenants, a mobile of varied shapes, colours and movements suggesting the infinite potential of human creativity a unmatched cosy atmosphere.
With 65 meters in height and rentable area of approximately 20.000 m2 the buildings are an attractive and contemporary 16-story trophy office tower.
Bright & efficient offices
The full size glass façade and the correct layout of the offices provide plenty of natural light through the premises. Combined with the office height of 2.80 m2 this creates a feeling of convenience and freedom.
The "open space" concept offers unlimited possibilities for the internal separations and layouts, so that the space can be arranged in accordance with the exact tenant´s requirements.
State of the art technical installations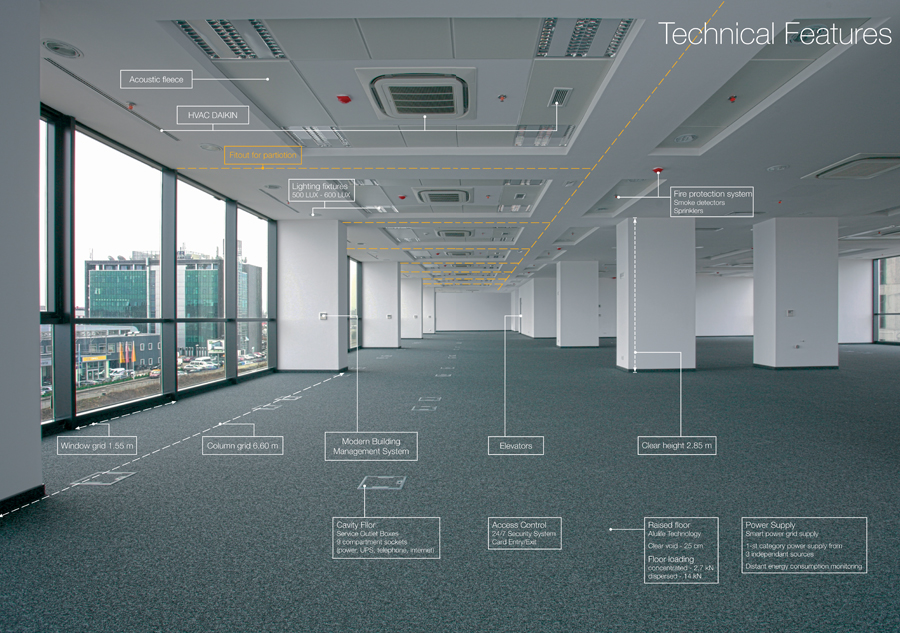 The innovative raised floor system by Lindner offers the possibility for flexible power and communication cabling. This underlines the "open space" concept of the premises and the possibility for different internal separations and arrangement of the working stations.

AMF raster ceiling (600 X 600 mm) ensuring privacy in open space areas and meeting rooms because of excellent sound absorption.
Reliable Server Rooms & Superior Cabling
Server rooms with separate cooling system available on each floor;
Vertical cabling with multi-mode fibre optic cable;
Several independent internet and telephony suppliers;
Phone installation with CAT 5e FTP cable;
Optimal air condition system
4 pipes HVAC System with possibility for simultaneously heating and / or cooling in the different premises. Separate measurement of the exact power consumption.
Electrical Capacity Backup
Class "O" power stability system;
Three independent transformer - substations, each 1,8 Kv provide 4,5 Kv in a distribution system with redundant capability;
Total security in case of emergency through ABP;
Each floor with independent remote-control electricity consumption measurement;
Modern Elevator Technology
Schindler 5400 high speed elevators with 10 person capacity/800 kgm;
Speed - 1,6 m/sec.;
3 elevators per office building servicing from 1 to 15 floor;
1 elevator per building servicing underground parking floors to ground floor;
System MICONIC 10 Destination Control for quicker and optimal simultaneous service of the elevators;
Steel cabin and granite floors;
High-Tech Synergy Facades
The innovative "Schuco" facade system is well known for its energy-efficiency and state of the art protection against fire and smoke;
It allows open-air ventilation with openable windows;
Ventilated facade with heat insulation;
Ceramic tiles produced by Bachtal, Switzerland;
Etalbond
FW 60+
Soundproof factor - Rw(C;CTR)=49(-2;-5)d;
Heat transfer factor - VF=1.4-2.3W(m2.k);
Fire Life Safety/Security
Fire-detection system in the whole complex (offices and garages);
An automatic fire sprinkler system covering every square meter of the buildings;
Card access control system;
24-hour video surveillance and control in common areas;
Evacuation stairs in every building;
Underground garage – 210 lots
Outdoor parking – 60 lots
Professional property management
If we could refer to the building as "hardware", than the correct property management is the "software" that makes it "run" and satisfies the "users".
Close direct contact and best services to all tenants is extremely important for us; the property management is at your disposal for all questions related to the renting of premises, fit out, "move in"- organisation as well as all questions linked to the daily use of the premises.
The organisation and securing of the proper functioning of the property – such as security, cleaning, maintenance of the technical installations, relations to the providers of community services etc. – is essential for the convenience of our tenants. Our understanding and our goal is that all these services are functioning perfectly and the tenant does not have to think about this.
The Property management of BLU Offices is performed by Robul Group. Established in Vienna, Austria, Robul is an international corporation offering a full range of professional real estate services to distinguished partners.
Robul manages several other office buildings in Sofia, such as Megapark, Telenor etc.
Floor Plans
One feels comfortable and secure in his "second home".